Below you will find details regarding parking and travel.
Spring Commencement will be held at Michigan Stadium (1201 South Main Street).
There is NO OPEN public parking at Michigan Stadium for Spring Commencement.
For hotel and restaurant information, please visit the Ann Arbor Visitors Bureau website.
Ann Arbor Map
Located less than 40 miles from Detroit Metropolitan Airport, Ann Arbor offers convenient access to major freeways.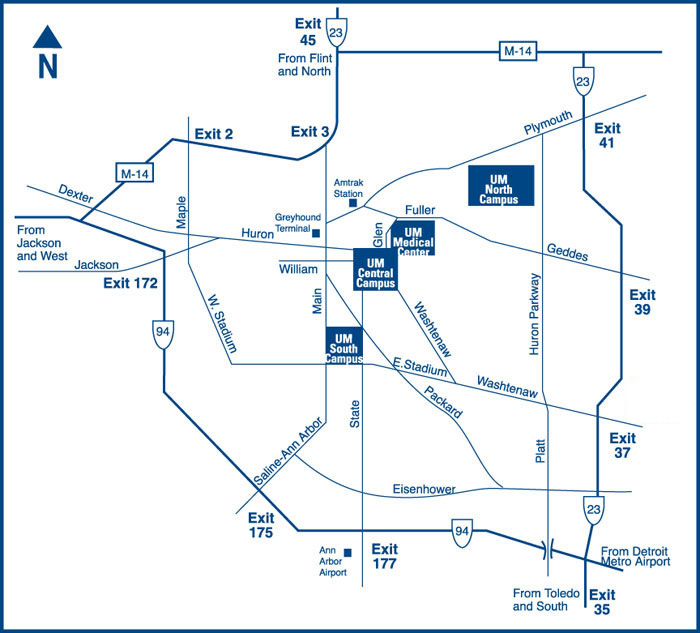 Parking & Walking Map
Michigan Stadium is located at 1201 South Main Street in Ann Arbor. Guests are encouraged to park in lots indicated on the maps below.  A complimentary shuttle service is also available throughout Ann Arbor, with convenient stops near U-M parking locations.
There is no open public parking at Michigan Stadium for Spring Commencement.  Parking for vehicles with state-issued "handicap plates or tags" is available on the north side of the stadium.  See more information here.
There are a number of campus parking lots at a walkable distance from the stadium, but please note these do fill up quickly.
Thursday, April 27: The gates to the Thayer, Fletcher, Hill, Thompson and Palmer-Blue Area structures will be opened at 9 a.m. for commencement guests. Parking enforcement in these structures will be suspended from 9:00 a.m. to the end of posted enforcement hours.
Friday, April 28 – Saturday, April 30: The gates to all the structures on Central Campus will open on Friday (see detail below) and remain open throughout the weekend. Parking enforcement in these structures will be suspended until the end of enforcement hours on Sunday.
Palmer-Blue Area, Fletcher, Thayer: gates open Friday 9:00 a.m. through Sunday
Thompson, Hill, Church: gates open: Friday 9:30 a.m. through Sunday
In addition, all University parking areas/surface lots on Central, North and South Campuses will have suspended parking enforcement Fri-Sun, and commencement guests are welcome to park in any available unrestricted parking space (blue, orange, yellow).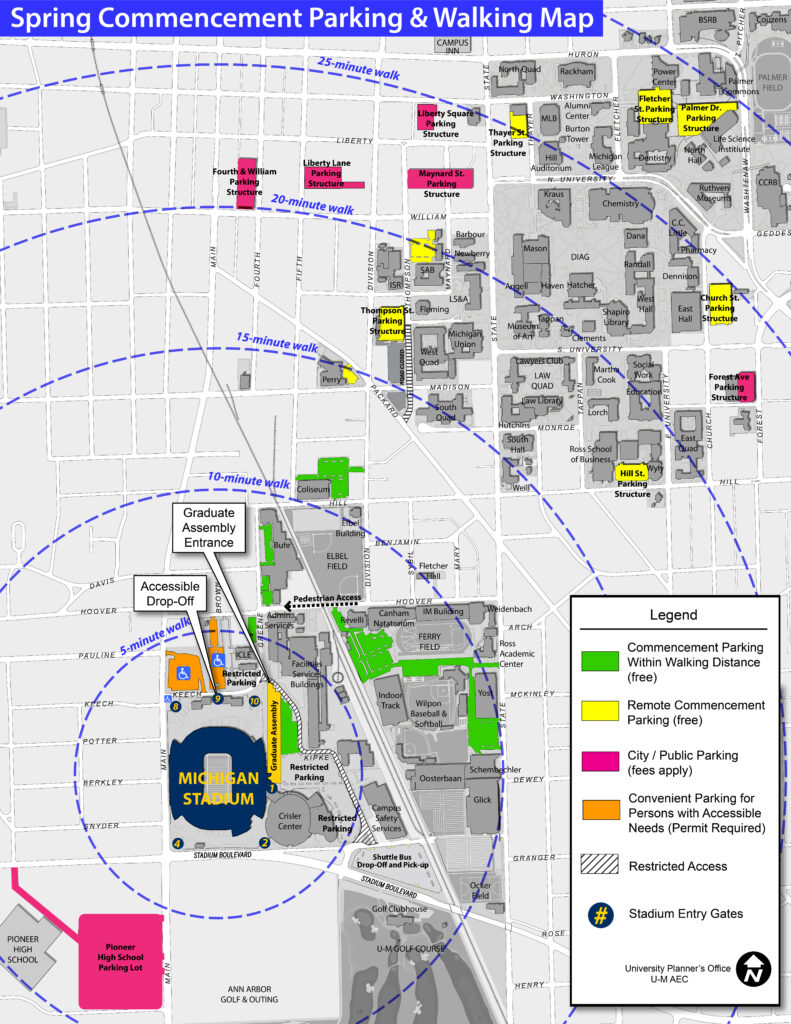 Additional Parking
Additional parking at Pioneer High School. Please note there is NO tailgating allowed. Enter off Main St. Gates 3 and 5.
Pre-order parking reservation sales at Pioneer High School for Spring Commencement are now closed. Onsite parking sales will depend on availability and weather conditions.
Pioneer High School should not be contacted directly regarding parking. For questions, visit michigangamedayparking.com
Shuttle Service
Due to limited parking near Michigan Stadium, we encourage guests to use the complimentary shuttle service to and from area hotels and parking lots. Service will begin at 7:45 a.m. and will run approximately every 20 minutes until 9:45 a.m. Buses will resume operation at the end of the commencement ceremony. Please note that schedules are subject to traffic conditions.
Shuttle buses are expected to be quite busy, so users should expect to wait anywhere from 10 to 30 minutes for service, especially during the hour immediately following commencement.
All shuttle buses are wheelchair-accessible.
Note: shuttles will NOT be picking up guests from the Pioneer High School lot.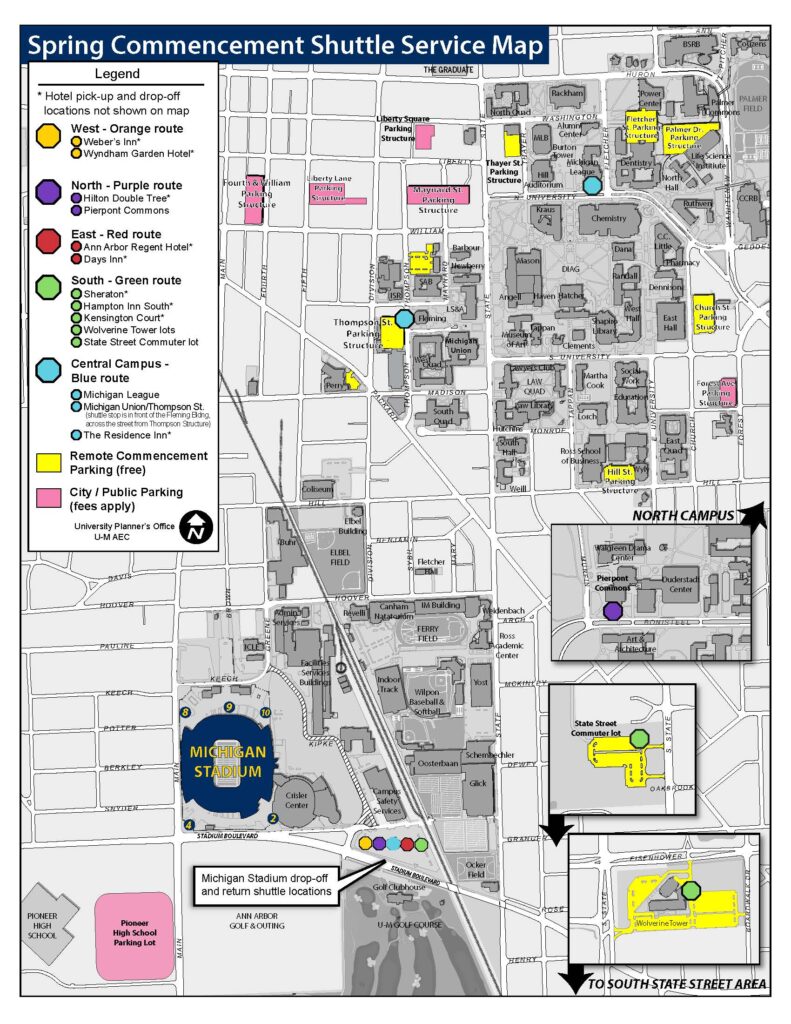 Accessible Parking & Drop Off
The University has designated two lots–with entrances from Main Street and Hoover Street–for accessible parking only. Spaces will be available on a first come, first served basis and open at 6:30 a.m. A state-issued accessible parking sticker or hangtag is required to park in these lots.
Gate 9 on Keech Street will function as a drop-off area for any guests who have difficulty walking.  Guests may wait at Gate 9 in a designated area for the rest of their party to join them.
U-M staff will use golf carts to transport those who need assistance from the parking lots and Gate 9 to their sections in the stadium.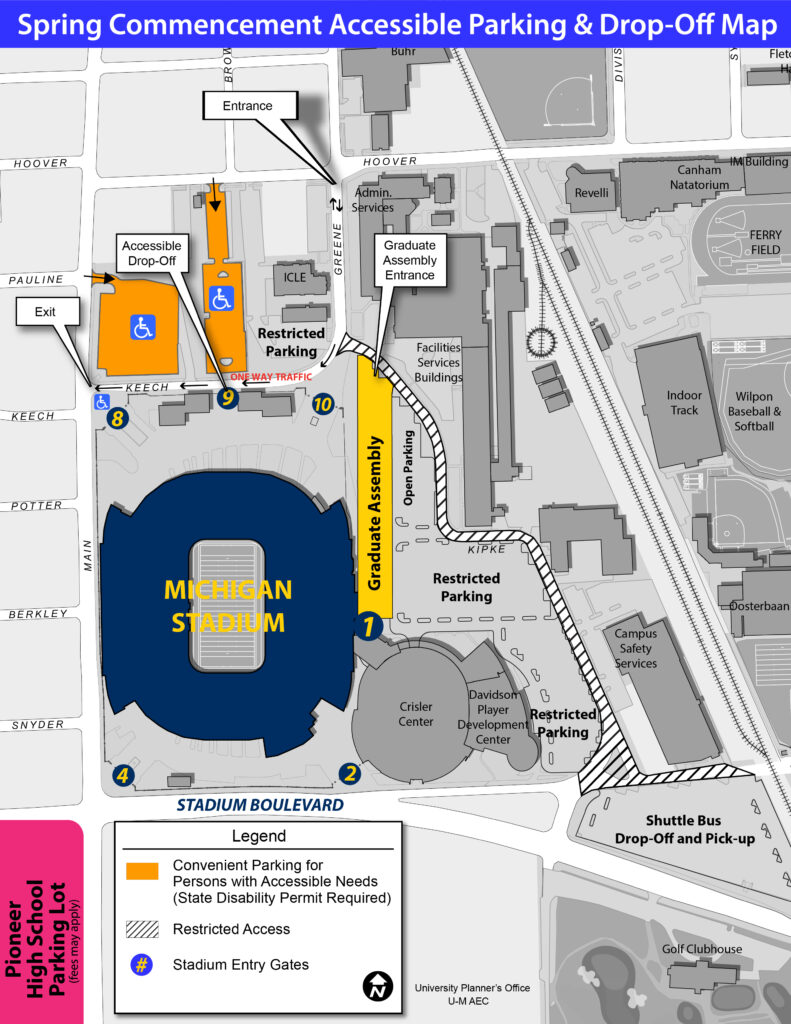 Click to enlarge
Hotels & Restaurants
Please check the Ann Arbor Visitors' Bureau website for information on hotels and restaurants, and make your reservations early.